Haynes Commercial Products, LLC introduces the Mlti-Purpose Hamper Stacker and Un-Stacker. This easy to operate, patented product , eliminates back injuries associated with lifting hampers by hand. The WL2005 will stack and un-stack large cloth, plastic and wire hampers with no manual lifting. The WL 2005 is also portable, allowing it to be moved from location to location by one person.
All styles of plastic hampers used by USPS can be stacked and un-stacked by this unit.
SAFETY: THE WL2005 WAS DESIGNED MAINLY TO ELIMINATE LIFTING TYPE INJURIES RELATED TO THE MANUAL STACKING AND UN-STACKING OF HAMPERS. THE UNIT HAS HEAVY DUTY SAFETY SCREENS ON BOTH SIDES WHICH ELIMINATED REACHING IN TYPE INJURIES SUCH AS HANDS, ARMS AND LEGS GETTING CAUGHT IN EQUIPMENT.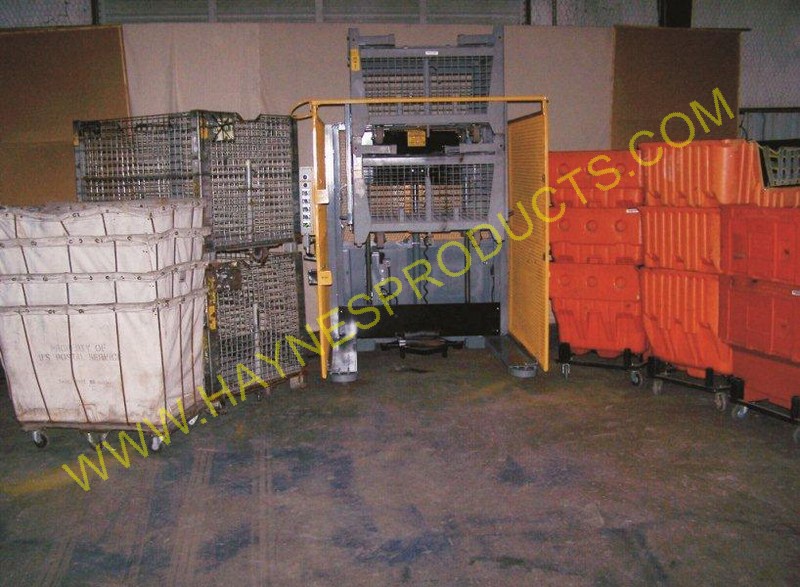 This unit is equipped with a manual safety stop and 2 solid object sensors.
GENERAL SPECIFICATIONS:
CYLINDER 2500 PSI
LIFT CAPACITY 1200 LBS
SAFETY SCREENS WELDED WIRE MESH
FINISH POWDER COATED
MFG WARRANTY 1 YEAR PARTS, 2 YEARS FRAME
ELECTRICAL SYSTEMS:
ENCLOSURES ALL MEMA 12
PRIMARY VOLTAGE 4 WIRE LEAD, 2 HOTS, 1 GROUND, 1 NEUTRAL
208,230 OR 250V SINGLE PHASE POWER
FEMALE CONNECTOR L1430-C OR L14-30R
FACING THE LOAD END OF THE STACKER
POWER DROP SHOULD BE AT THE LEFT REAR SIDE
CONTROLS 7 BUTTON CONTROL BOX
SENSORS SOLID OBJECT DETECTORS, 2 EACH SUNX
MOTOR 3 HP
MOTOR ¼ HP SCREW DRIVE
LIMIT SWITCHES 6 EACH, GE
HYDRAULIC SYSTEM:
PUMP 4 GPM/7 LITER TANK
VALVE SINGLE ACTION UP/DOWN GRAVITY